Chocolate Cake – gluten-free, vegan, soy-free, and yummy!
Today is this blog's fifth birthday. Happy Birthday recipe blog!
Here is a recipe that I've wanted to post for five years now. I've been making this recipe for seventeen years, and I love it dearly. But I have been hesitant to post it because people sometimes hear the words "gluten-free cake" and won't even try it. They just assume that the words "gluten-free" mean that it will taste bad. So, even though I love this recipe, I worry.
Also, this cake is made from scratch. Me personally, I like that better than storebought cake or cake that is made from a mix, because then I know exactly what goes into it and I can choose good quality ingredients. But if you are used to cake from a mix, then you are used to emulsifiers that change the way
the cake feels in a person's mouth, and so cake made from scratch really may not taste as good, if you are expecting emulsifiers.
This recipe is adapted from the cookbook Eco-Cuisine by Ron Pickarski.
So, with great hesitation, here is a recipe I love: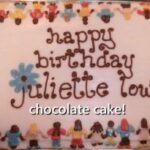 Print Recipe
Chocolate Cake - gluten-free, vegan, soy-free, and yummy!
This recipe makes a fantastic, delicious, made-from-scratch gluten-free, vegan, dairy-free, soy-free chocolate cake!
Servings:
1
two-layer cake
Ingredients
Cake:
1 1/2

cups

granulated sugar

preferably organic

2 3/4

cups

of flour or gluten-free flour mix

I use 2/3 cup each of: quinoa flour, teff flour, garbanzo flour, and potato starch -- but any gluten-free flour mix should work

1 1/2

teaspoons

xanthan gum or guar gum -- only if you use gluten-free flour and only if your mix doesn't already include it

3/4

cup

cocoa powder

2

teaspoons

baking soda

1/2

teaspoon

salt - optional

I always leave this out

2

cups

water

1/2

cup

maple syrup

6

tablespoons

canola oil

2

tablespoons

apple cider vinegar

2

teaspoons

vanilla extract
Frosting:
1-2

pounds

confectioners sugar

see recipe

1/4

cup

canola oil

1/2

cup

cocoa powder

1/3

cup

water

1

teaspoon

vanilla
Decorator Frosting for one color - most cakes use two or more colors:
1

tablespoon

canola oil

1

tablespoon

water

about 3/4 cup confectioner's sugar

optional: coloring

can be food coloring, turmeric, beet juice, blenderized spinach, etc.
Instructions
Cake:
Preheat oven to 350 degrees.

Oil and flour two 9-inch round cake pans. I find a

silicone pastry brush

is useful for oiling pans. If you are making a gluten-free cake, you can flour the pans with brown rice flour or quinoa flour.

In a large mixing bowl, combine the dry ingredients and stir well. (Stirring at this point is important because it prevents finding clumps of potato starch in the finished cake.)

Add the wet ingredients and stir well.

Pour half of the cake batter into each pan.

Bake for 30 minutes. The cake is done when a toothpick comes out clean, or when a thermometer poked into the cake reads between 190 and 200 degrees (Fahrenheit).

Remove pans from oven and cool completely.

If you have time to freeze the cake layers, it's easier to frost it while it is frozen.
Frosting:
Mix oil, water, vanilla, cocoa powder, and 2-3 cups of confectioner's sugar. Add more confectioner's sugar and stir, repeatedly, until you have the perfect consistency for spreading on a cake. If it gets too thick, add a few drops of water and stir.

Turn one layer upside down, so that its flat side is up. Spread the frosting on top of it, all the way to the edges.

Place the other layer right-side up on top of the frosting, so that the two layers have their flat sides together. Spread frosting on the top and sides.
Decorator Frosting:
Mix all ingredients in a small bowl, such as a cereal bowl. Add small amounts of either confectioner's sugar or drops of water until you have the perfect consistency for frosting, with a consistency similar to toothpaste. Place the frosting in your choice of frosting gadget, such as a frosting bag with a decorator tip. Draw words or pictures on the cake.

Or, alternatively, mix up the decorator frosting ingredients and add enough confectioner's sugar to get the consistency of playdough, and then use your hands to make sculptures of decorations to go on the cake. You can be really imaginative and have fun with this!

Variations:

* Multiply recipe by 1.5 and bake in a 9x13 inch pan for 45-60 minutes. Use frosting amounts listed here, without multiplying.

* Or multiply recipe by 3/4 and bake in a 7x11 inch pan for 45 minutes.

* Or bake recipe in a cupcake tin for 19-20 minutes. Makes 24 cupcakes.

* Or, double recipe and bake in a half-sheet pan for 50-70 minutes.

* Or, bake 3/8 of the recipe in a 6 inch round pan for 35 minutes.

* You can also use the batter to make cake pops! That's a posting for another day, but if you are feeling ambitious you can figure out what to do.