Tiny Sweet Potato Pies – a snack or a whole meal, gluten-free, vegan, and delicious!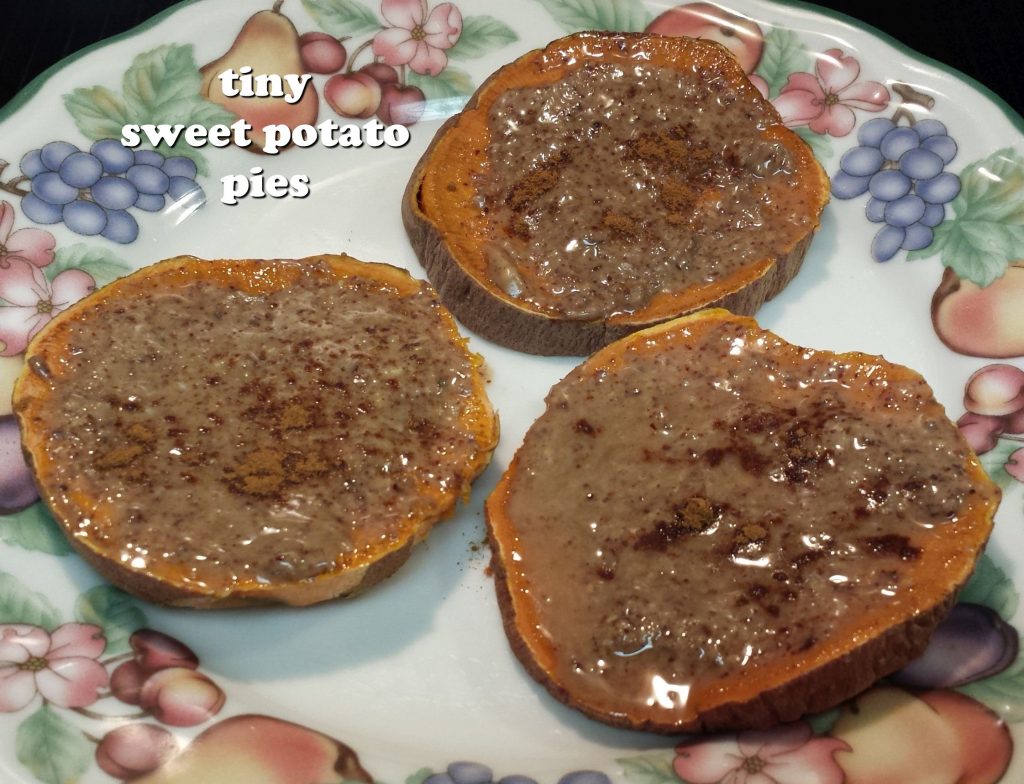 These tiny sweet potato pies are quick, cute, and oh so delicious!
They make a good snack or small meal. They have protein from the almond butter, and the sweet potatoes are a veggie, so they are a tiny, very yummy, balanced meal.
The taste is warm and sweet and cinnamon-y. Yum!
Warning: Addictive!
Where this recipe came from:
Years ago, I read an article where someone had sliced sweet potatoes the long way, into thin slices, then toasted them in a toaster and used them as a form of bread for cute little gluten-free sandwiches. I was intrigued by the simplicity and yumminess of the idea, and eager to try it. I loved the thought that it would make a simple gluten-free "bread" easily available from grocery stores everywhere.
My family's toaster gets used for things that I am allergic to, so instead of using the toaster, I tried toasting slices of sweet potatoes in the oven. That worked well, and I got slices of nicely toasted sweet potato. But, to be honest, I think that slices of sweet potato are too sweet to make a good bread-substitute — at least according to my tastebuds.

My tastes must be different from the tastebuds of the person who wrote the article, so maybe this is something that some people would like. A lot of people like meals that are sweeter than what I like. Anyway, it didn't work for me. But then I had all of these slices of toasted sweet potato to use up. So I spread on almond butter, added a pinch of cinnamon, and that became this recipe.
Is a tiny pie a pie-let? Can you spell it as "pilot"? If so, then an alternate name for this recipe is "Sweet Potato Pilots." Or pielets.
Anyway, yum!
Print Recipe
Tiny Sweet Potato Pies
These tiny sweet potato pies are quick, cute, and oh so delicious! They make a good snack or small meal. With protein and veggie they are a tiny, very yummy, balanced mini-meal.
Ingredients
1-2

medium sweet potatoes

the kind with orange-colored flesh

a few tablespoons of almond-butter or other nut-butter or an alternative such as sunbutter or soybutter

a few pinches of cinnamon
Instructions
Preheat the oven to 425 degrees Fahrenheit

Wash the sweet potatoes, cut out any bad spots, and slice them into quarter-inch-thick circles.

Place the circles on a nonstick cookie sheet or a silicone mat on a cookie sheet.

Place in the oven. Even if it isn't fully preheated yet, you can go ahead and put them in.

Bake for 10-15 minutes (sometimes longer if the oven is still preheating), until poking the sweet potatoes with a fork shows you that they are soft. They should be starting to brown. Watch them closely, because they can go quickly from undercooked to burned.

Spread a dab of almond butter (or alternative) on each slice of sweet potato.

Top with a pinch of cinnamon, and serve warm.

These are oh so good!