Cranberry Pecan Orange Mini-Muffins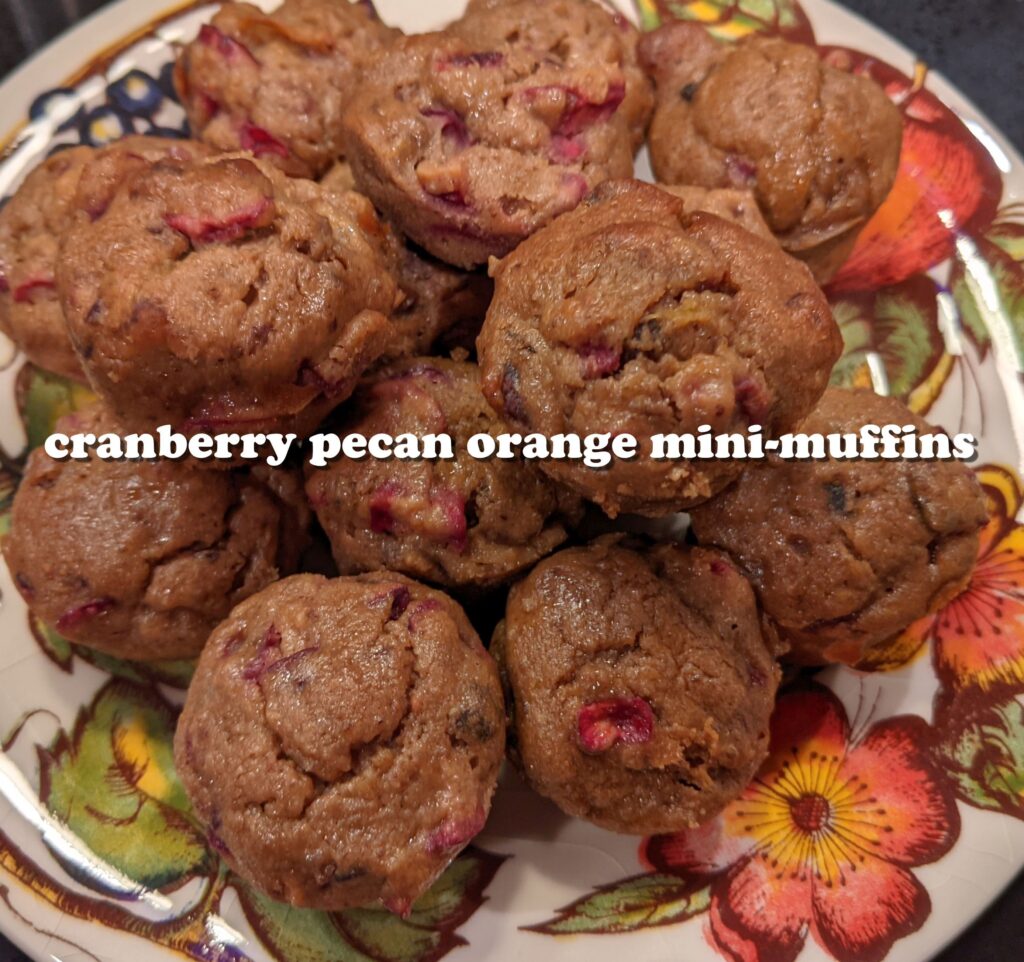 This is my version of a recipe from Smitten Kitchen. I saw this recipe there and thought that cranberries and pecans would be either wonderful or terrible together, and I wasn't sure which. But I love pecans, and Thanksgiving was coming soon and the stores had an abundance of fresh cranberries, so I decided to try it. Oh my goodness, it is amazing!!! I ate slice after slice from the first batch, and then quickly made two more batches.
I changed practically everything about the recipe. I made it gluten-free and vegan. I replaced the refined sugar topping with chopped oranges — which doesn't sound at all the same, but actually it works well. Because my favorite part of the loaf was the outside edges, I changed it into mini-muffins, so that every piece has plenty of outside edges. And it came out great every time!
The original recipe says you can make this nut-free by leaving out the nuts, and it still comes out fine. I have not tried that, but I think it should work.
Right now would be a great time to make these muffins, while the grocery stores are still full of cranberries!
Note: I have revised the baking time down to 15 minutes. Originally I posted this with 18, but the batch of mini-muffins that I made today was ready at 15.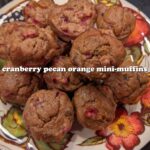 Print Recipe
Cranberry Pecan Orange Mini-Muffins
Cranberries, pecans, and oranges combine really well in these delicious mini-muffins. Warning: may be addictive!
Servings:
28
mini-muffins or 2 mini-loaves
Ingredients
6

tablespoons

chopped pecans

If it is easier to measure: six tablespoons is also 3/8 cup.

1/2

cup

coconut sugar (or any other type of granulated sugar)

1

orange - organic recommended

3

tablespoons

canola oil or other neutral-tasting oil

1/4 to 1/3

cup

vegan yogurt or buttermilk or sour cream -- or my all-purpose dairy replacer (see the notes for the link) -- whatever you choose should be a bit tart

See the recipe for the exact amount

2

teaspoons

finely ground flax seed

If your ground flaxseed doesn't look like a powder, run it through the blender until it is powdery.

2

tablespoons

water

1/2

teaspoon

baking powder

or alternatively use 1/6 teaspoon of baking soda plus 1/6 teaspoon cream of tartar (you can estimate 1/6 teaspoon by using a 1/2 teaspoon measuring spoon and filling it 1/3 full).

1/4

teaspoon

baking soda

1

cup

fresh or frozen cranberries. Remove any squishy ones, then cut each berry in half or in pieces

I cut them in half by hand for the first batch, then switched to using this easy cutter to chop them: https://amzn.to/3Ed1vml

1

cup

flour or gluten-free flour

I used 1/4 cup each of potato starch, quinoa flour, garbanzo flour, and teff flour, plus 1/2 teaspoon of xanthan gum
Instructions
Preheat oven to 350 degrees.

While the oven preheats, toast the pecans in a metal baking pan in the oven for 6 to 8 minutes. Check often to see if they are done - they go from toasted to burnt in an eyeblink, and you want to catch it before that happens.

Measure your choice of sugar into a mixing bowl.

Wash the orange, then rub it on a fine grater to scrape off the orange color from all over the outside. The scraped-off part is the orange zest. Grate the zest into the bowl of sugar, then stir the zest and sugar together to break up any clumps.

Cut the orange in half. Juice one half and put the juice into a measuring cup. Peel the other half, and cut the flesh of that half into chickpea-sized pieces.

With the measuring cup of orange juice, add vegan yogurt or sour cream or buttermilk or other dairy-replacer until it reaches a total of 1/2 cup.

Put all of the ingredients in the mixing bowl and stir until everything is nicely combined.

Put the mixture into either a silicone mini-muffin tin or two non-stick mini-loaf pans. If you are making mini-muffins, fill each cavity about 3/4 full.

Bake mini-loaves for 28 minutes or mini-muffins for 15 minutes.

You can check for doneness with a thermometer -- look for 190 to 200 degrees F -- or poke in a toothpick, and if it comes out without batter stuck to it, then it is done.

Serve warm, or at room temperature, or cool! Yum!