Shepherd's Pie in 30 minutes – gluten-free, vegan, and really yummy!
I have a printed copy of the original version of this recipe. My handwritten notes on it say, "Everybody liked it! It's a miracle! Makes lots of food!"
I started cooking this recipe when one of my nieces was living here, and finding anything that all four adult-type people would eat was always a big, happy surprise. All of us liked this recipe — I was delighted!
There are two ways to make this pie. You can bake it if you want to, but if it's summertime and too hot to bake, or if you are in a hurry, then you can leave it unbaked to have it ready quickly. Either way — it's delicious!
This recipe is inspired by the Minimalist Baker's 1-Hour Vegan Shepherd's Pie recipe.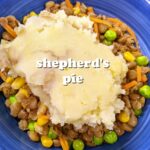 Print Recipe
Shepherd's Pie in 30 minutes
This Shepherd's Pie recipe is vegan, quick, easy, and very satisfying! Yum!
Ingredients
1

medium

onion

optional!

2

cloves

garlic

optional!

1.5

cups

brown or green lentils

uncooked

4

cups

vegetable stock or water-and-some-salt

I like Imagine brand No-Chicken Broth

1

teaspoon

dried thyme

EITHER 1 ten-ounce bag of frozen mixed veggies OR 2 cups of frozen corn, 1 cup frozen peas, and 2 cups shredded carrots OR your choice of some other mixture of veggies -- this recipe is flexible!

2

pounds

yellow potatoes such as Yukon Gold, washed and cut into cubes

This is about 4-6 cups.

5-6

tablespoons

canola oil - divided

preferably organic!

salt and pepper to taste

Salt disappears into potatoes, so use plenty
Instructions
If you are using the optional onions or garlic: In a pot that you can boil lentils in, put in the onions, garlic, and a couple of tablespoons of oil. Cook for a few minutes, until the onions are soft.

Check the dry lentils and pick out any stones. Add the lentils, broth or water, and thyme to the pot. Bring to a boil, then lower the heat and cook until the lentils are tender and the water is absorbed. The amount of time varies, depending on how dry the lentils started out and how old they are. It can take anything from 15 minutes to 40, so check from time to time to see if they are done. Usually it takes about 20 minutes, but the time can vary quite a bit.

Part-way through cooking the lentils, add the frozen veggies to the pot and stir.

Meanwhile, once the lentils are started, cut the potatoes into cubes that are about 1 inch in size. The potatoes are going to be mashed later, so they don't have to be pretty. Put them in a pot, add water to cover, heat to boiling, then cook for 12 minutes, until a fork can easily pierce a potato cube.

Drain the potato chunks and put them back into the pot. Add salt, pepper, and a few tablespoons of canola oil, and mash with a potato masher. Carefully (because it's hot!) taste the mixture and see if you want to add more salt and/or oil.

Now you can either serve the Shepherd's Pie by putting a scoop of the lentil mixture into each bowl, with a scoop of the potato mixture on top, and smooth it out to look pretty.

--OR-- you can preheat the oven to 425 degrees and put the lentil mixture into a 9x13 "lasagna" pan, top it with the potatoes, smooth out the potatoes, and bake for 10-15 minutes. Cut into squares and serve!