Cobblestone Farm Market Dinner – gluten-free, vegan, and makes my body oh so happy!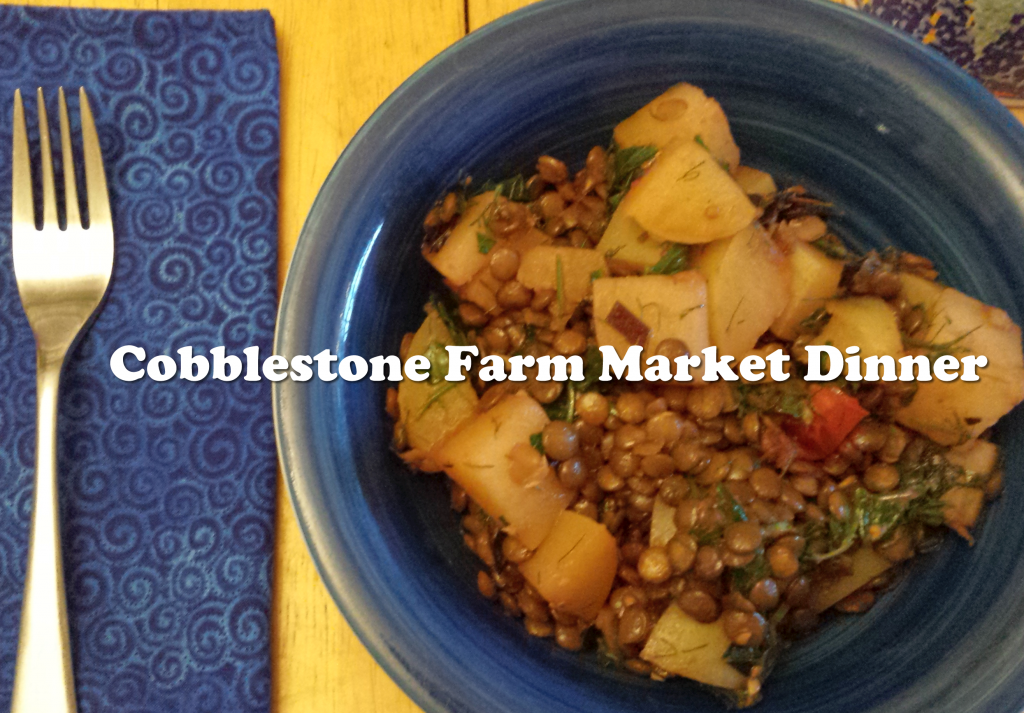 A few years ago, local folks started a small farmers' market that is walkable from my house. It is at a place called Cobblestone Farm. They have a newsletter each week, with a recipe.
I call this recipe "Cobblestone Farm Market Dinner" because it is loosely based on a recipe that was in their newsletter.
Its alternate name is "Happy Three," because it contains lentils, kale, and potatoes — three foods that each make my body very happy, so combining all three into one meal makes a food that I really enjoy.
The newsletter's original name for this recipe was "Sauteed Greens & Things."  :)
Whatever name it goes by — yum! This recipe is delightful, and it leaves my body feeling great!
All of the quantities in this recipe are very flexible. Feel free to add more of the things you like! You can make this at any time of year, and it is a glorious celebration of foods that are in season right now.
Print Recipe
Cobblestone Farm Market Dinner
This recipe contains three foods that make my body very happy: lentils, kale, and potatoes. Yum!
Ingredients
1

cup

green or brown lentils

2

cups

water

olive oil

1

onion

chopped (optional)

3

cloves

garlic

crushed (optional)

1

pint

of potatoes

chopped into small dice

1

handful chard

chopped

1

handful kale

chopped

1

handful fennel fronds

chopped (optional)

juice of 1 lemon

1

tablespoon

soy sauce

I use San-J gluten-free reduced sodium tamari (for soy-free, replace with 1/4 to 1/2 teaspoon of salt)

1/4

teaspoon

salt

1-2

chopped fresh tomatoes

optional, but good!
Instructions
Check through your dry lentils and remove anything that shouldn't be there (small stones, other grains, etc.). Place them in a pot with the water. Heat to boiling, then reduce heat and simmer until the liquid is absorbed and the lentils are tender, 15 to 30 minutes depending on your lentils.

Either boil the chopped potatoes in just enough water to cover them, until the potatoes are cooked but not yet mushy, which takes about 10-12 minutes, then drain them. OR put the diced potatoes on a cookie sheet, toss with some salt and oil, and bake in a 400 degree oven, turning them occasionally until the potatoes are turning golden brown. (I prefer the oven version, but if the weather is very hot I'll choose the boiled version to avoid heating up the kitchen.)

Meanwhile, if you are using onions, in a big pot such as a Dutch oven, saute the onions in some olive oil. Then add the garlic and cook for another couple of minutes. Add the greens, and cook until they decrease in volume and are heated through.

Add everything to the big pot or put it in a big mixing bowl. Stir thoroughly.

Taste, and add more salt and/or tamari if needed.

Serve!