Lasagna with Zucchini or Eggplant as the noodles – gluten-free, vegetarian, vegan, easy and good!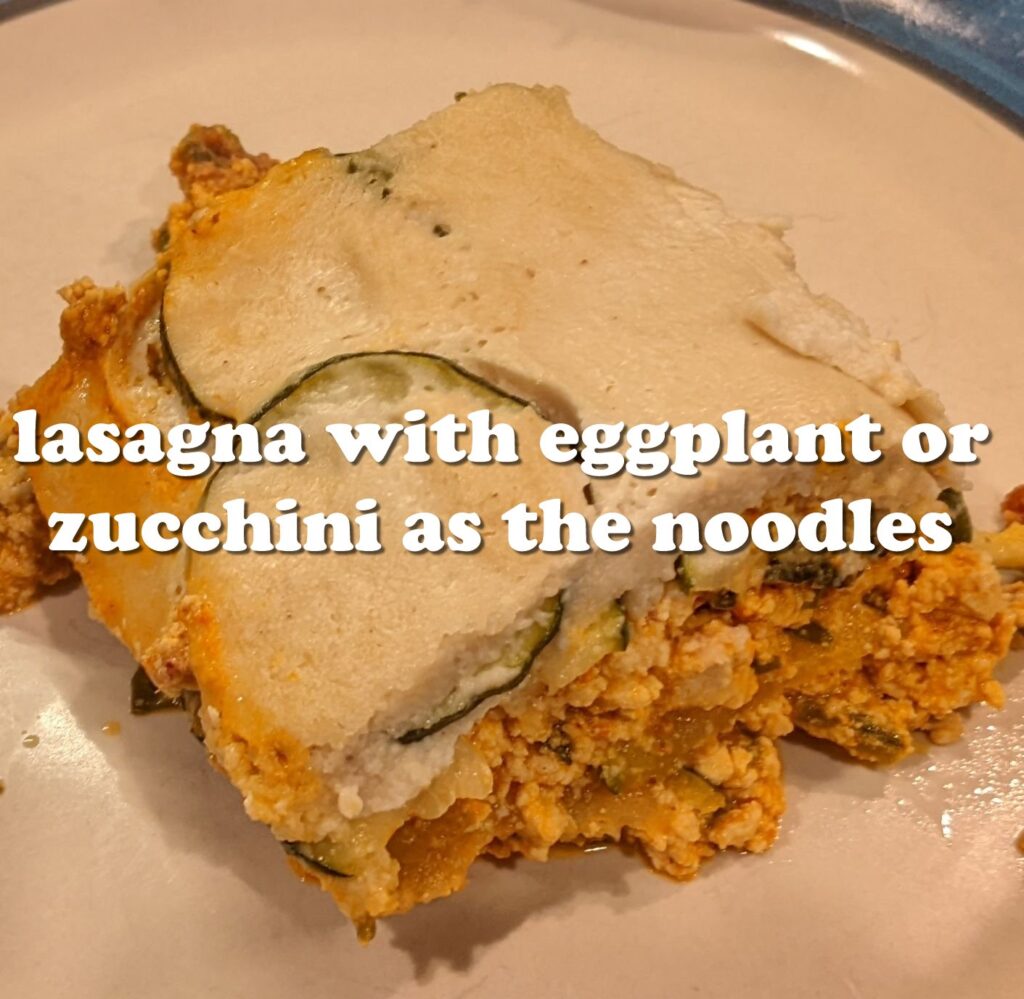 This recipe uses eggplant and/or zucchini and/or potatoes instead of noodles. It is vegan, healthy, and delicious!
The original version of this recipe came from a website called Coconut And What, which doesn't seem to exist anymore. The author there described the recipe as a 10/10 for its layers of taste. I've changed practically everything, and it's still an amazing recipe — definitely a 10 out of 10!
My notes say that the topping is optional. But it makes the finished lasagna prettier and it tastes fantastic, so I definitely say include it!
The recipe as written makes an 8×8 pan of lasagna, which is on the smaller side. Zucchini and eggplant season is in mid-summer, and I can bake a small lasagna pan in my toaster oven and keep the whole kitchen cooler. If you are not worried about heating up your kitchen, you can easily double the recipe to make a bigger lasagna in a traditional 9×13 inch pan. That also gives you room to include more than one vegetable as noodles. Whether you use one, two, or all three of the veggie options, it works well!
In the pictures here, I've used my food processor to slice a zucchini into small circles – which is a lightning-fast way to do the slicing. You can also use a mandoline, or a kitchen knife, to slice your vegetables into the traditional longer noodle shapes. I think the smaller slices from the food processor are easier to eat — so both options have their advantages!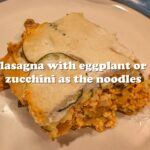 Print Recipe
Lasagna with Zucchini or Eggplant as the Noodles
This delicious recipe uses sliced zucchini or eggplant (or both!) as the noodles. It is healthy, vegan, and delicious!
Ingredients
Veggies as noodles:
1

medium

zucchini and/or eggplant and/or a few potatoes
Filling:
1

pound

extra-firm tofu

- If your package has 14 ounces or any other amount that is about a pound, that is fine

4

ounces

chopped kale or other greens

- either fresh or defrosted

2

tablespoons

tamari or soy sauce

2

tablespoons

apple cider vinegar

- or freshly squeezed lemon juice

1

teaspoon

smoked paprika

1

cup

tomato puree or spaghetti sauce

- sauce from a jar or can is fine, or use my fresh tomato sauce recipe - yum!

1

tablespoon

Dijon mustard

1/4

cup

almond butter or other nut butter

- This makes it a more filling meal. If you leave it out, I suggest adding some other source of a few extra calories, such as oil.
Topping:
3/4

cup

cashews

1/2

cup plus one tablespoon

water

1 1/2

teaspoons

cornstarch

3/8

teaspoon

salt
Instructions
Preheating:
Preheat oven to 400 degrees F.
Veggies as Noodles:
Slice the zucchini/eggplant/potatoes thinly. You can do this with a big knife, or a mandoline (carefully!), or you can slice them in a flash by cutting into quarters the long way and then feeding them through the slicing blade of a food processor. (The first two types of slicing make noodles that are about the size and length of traditional lasagna noodles. The third option makes much smaller pieces. Those are a different shape from lasagna noodles, but they work great in this recipe.)

Optional: You can speed up the recipe by spreading out the veggie noodles in a silicone baking pan and baking them at 400 degrees for 15 or 20 minutes while you work on the other parts of this recipe.
Filling:
Mash the tofu, either in a bowl or right in your baking pan. I use a potato masher to mash it, or a sturdy fork would work too. Then stir in all the other filling ingredients.
Topping:
Place all of the topping ingredients in a small blender jar, and blend for a couple of minutes, until there are no bumps left and it looks completely smooth and creamy.
Assembly:
Layer the veggie noodles and the tofu mixture in an 8x8 baking pan -- I like a silicone pan for this recipe, but any 8x8 pan should work.

If you mashed the tofu right in the pan, you can slide it over to one side of the pan to layer in veggie noodles, then slide it over on top of the veggie noodles to put veggie noodles on the other side.

Once all the veggie noodles and filling are layered into the pan, pour the topping on top.
Baking:
Cover the baking pan with aluminum foil, making it a little bit dome-shaped, so that it doesn't touch the food. Fold the edges of the foil closely around the edges of the pan to seal it.

If you did not choose the optional step of baking the veggie noodles earlier, bake the covered lasagna at 400 degrees for 1 hour.

Then (whether or not you pre-baked the veggie noodles) bake the lasagna, still covered, for another 25 minutes at 375 degrees.

To check to see if the lasagna is done, uncover it and poke into the middle to make sure that the veggie noodles are cooked through and soft. If it's not done, cover it up again and keep baking!

Uncover carefully, let cool for a few minutes, cut into portions, and serve!